"The most beautiful things we can experience is the mysterious. It is the source of all true art and science." – Albert Einstein
Void Visuals was born from a mystical experience I had that changed my perception of reality.
I was able to sense with closed eyes beyond the physical – a realm of light, structures, patterns, colors and music – the blueprint of creation.
Though I don't expect anyone to believe me, these experiences have determined my way of seeing and relating with reality.
Since they are hard to convey, my mission as an artist has become to communicate these indescribable worlds and make them experienceable through contemporary media.
The goal of my work is to inspire a sense of wonder, vision and beauty, to transform the way we relate with creation and feel more aware, spirited and interconnected.
Spellbound by the "flame fractals" I knew that I found a way to visualise my inner experiences. The moving pictures combined with music and cinematic elements created the animations which Void Visuals is known for today.
People refer to them as "open eye meditations" or "dream journeys" or "journeys into the within". They reported effects of recharging, deep relaxation, remembering, peacefulness, gratitude and a feeling of being re-connected to their own inner Source.
The unfolding of Void Visuals is a timeless journey – like a melting pot where my experiences, crafts, insights, inspirations, dedication and expressions converge to be transformed, reborn and shared.
On this journey I met many incredible people who all in their own way are connected to their source, making every cooperation a celebration of creativity and life.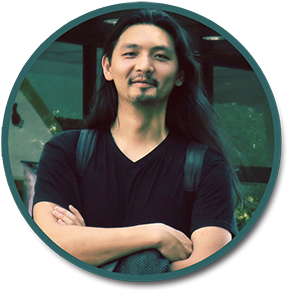 My name is Ming. Thanks for dropping by!
I am an artist, filmmaker, seeker.
I love the mysterious, unfathomable beauty of creation and this sweet evolutionary madness called human life.
If you feel the resonance and share the enthusiasm,
I invite you to be part of my artistic journey.
On my Patreon site you can participate, support me and get many benefits.
I post regular updates there about my active projects, behind the scenes and sneak previews.